Prosthetics. A beautiful smile boosts your self-confidence!
A healthy and beautiful smile is very important for a person's well-being and high self-esteem. On the contrary, missing and damaged teeth negatively affect our appearance and oral health. Thanks to modern technologies and methods of treatment, dental prosthetics play an important role in dentistry by restoring the aesthetics of teeth and their function. Prosthetics is a very multifaceted branch of dentistry providing an individual and most suitable type of treatment for each patient.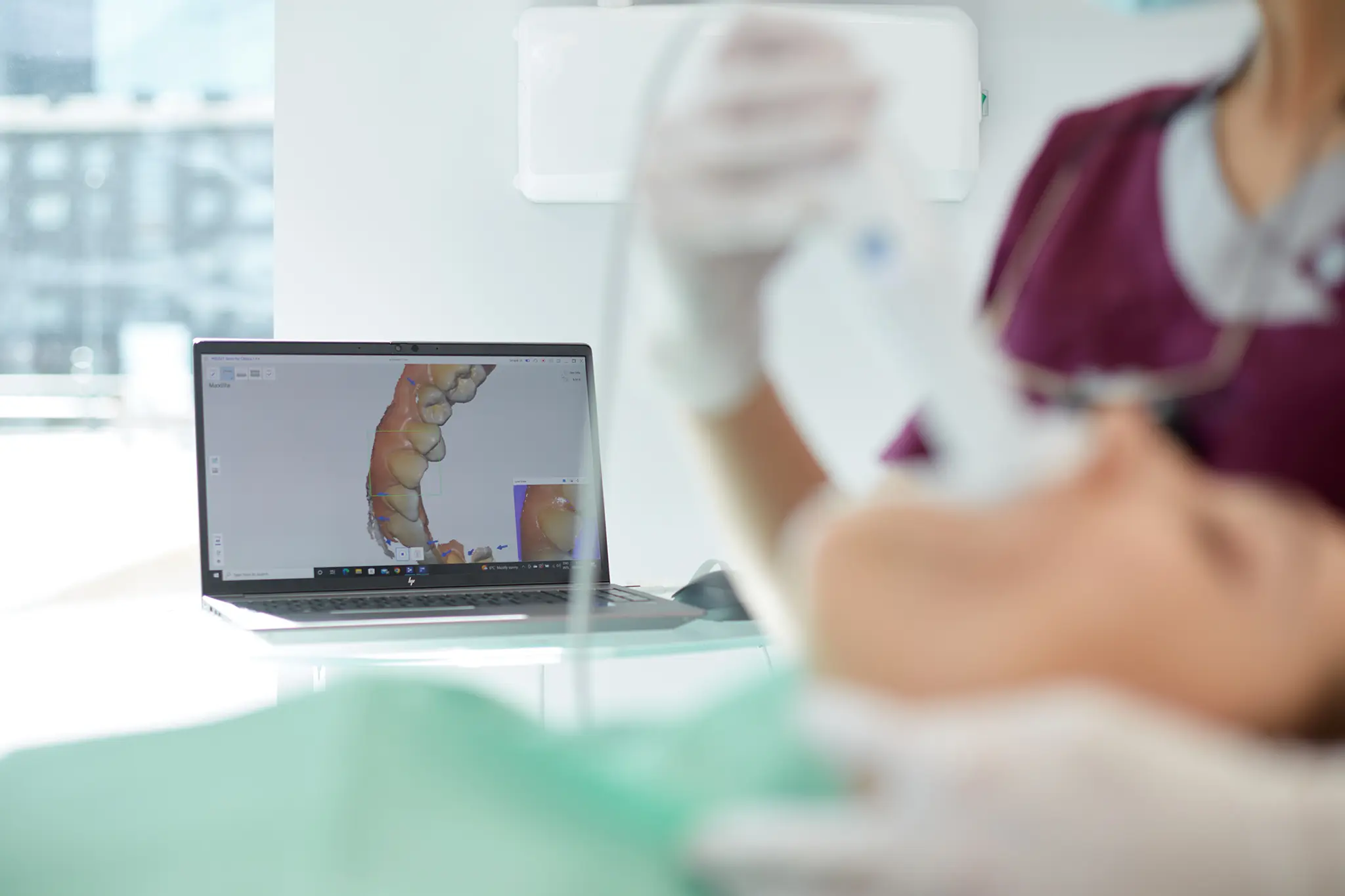 What Is dental prosthetics?
The concept of "dental prosthetics" refers to custom-made restorations manufactured in a dental laboratory. Prosthetics may include restoration of both single teeth and the entire dentition. Teeth restoration uses materials that are closely similar in their properties and appearance to the tissues of natural teeth.
Prosthetics can be permanent, removable, or hybrid (with both a permanent and a removable part).
Here are some options for prosthetic work of different types:
One-tooth restorations: single dental crowns, inlays/onlays, or single veneers. This type of restoration is classified as permanent prosthetics, where the dentist restores the tooth crown or its damaged part.
A bridgework is a permanent prosthesis that replaces one or more missing teeth. In the case of a bridgework, adjacent teeth support the prosthetic structure. A bridgework is an alternative solution when dental implants cannot be placed for some reason.
Veneers (or laminates) are permanent prosthetics where nothing but the outer part of the tooth enamel is removed. After tissue pre-treatment, a ceramic veneer is fixed on the outer part of the tooth. This type of restoration is used mainly for teeth in the aesthetic zone to achieve the most beautiful and natural result.
Total and partial dentures are types of removable dental prosthetics that are made in case of complete or partial absence of teeth. They are made from various types of plastic.
A clasp prosthesis is a removable denture with a metal frame to which artificial plastic teeth with gum imitation are attached. 
A combined prosthesis is a combination of different prosthetic types in one patient.
Temporary dentures are used in the intermediate stages of prosthetic dentistry to maintain aesthetics and function.
The cost of dental prosthetics can vary greatly depending on the type of treatment chosen. Before treatment begins, the price of prosthetics will be discussed and agreed upon at an appointment with the attending physician.
Dental prosthetics help improve your quality of life!
Dental prosthetics both improve the aesthetics of teeth and restore proper chewing and speaking functions, thus enhancing the quality of life of patients. Dental prosthetics contribute to maintaining facial structures, avoiding weakening muscle and skin tone while giving your face a youthful appearance. Thus, dental prosthetics can boost self-confidence by allowing a person to smile freely and giving others a smile!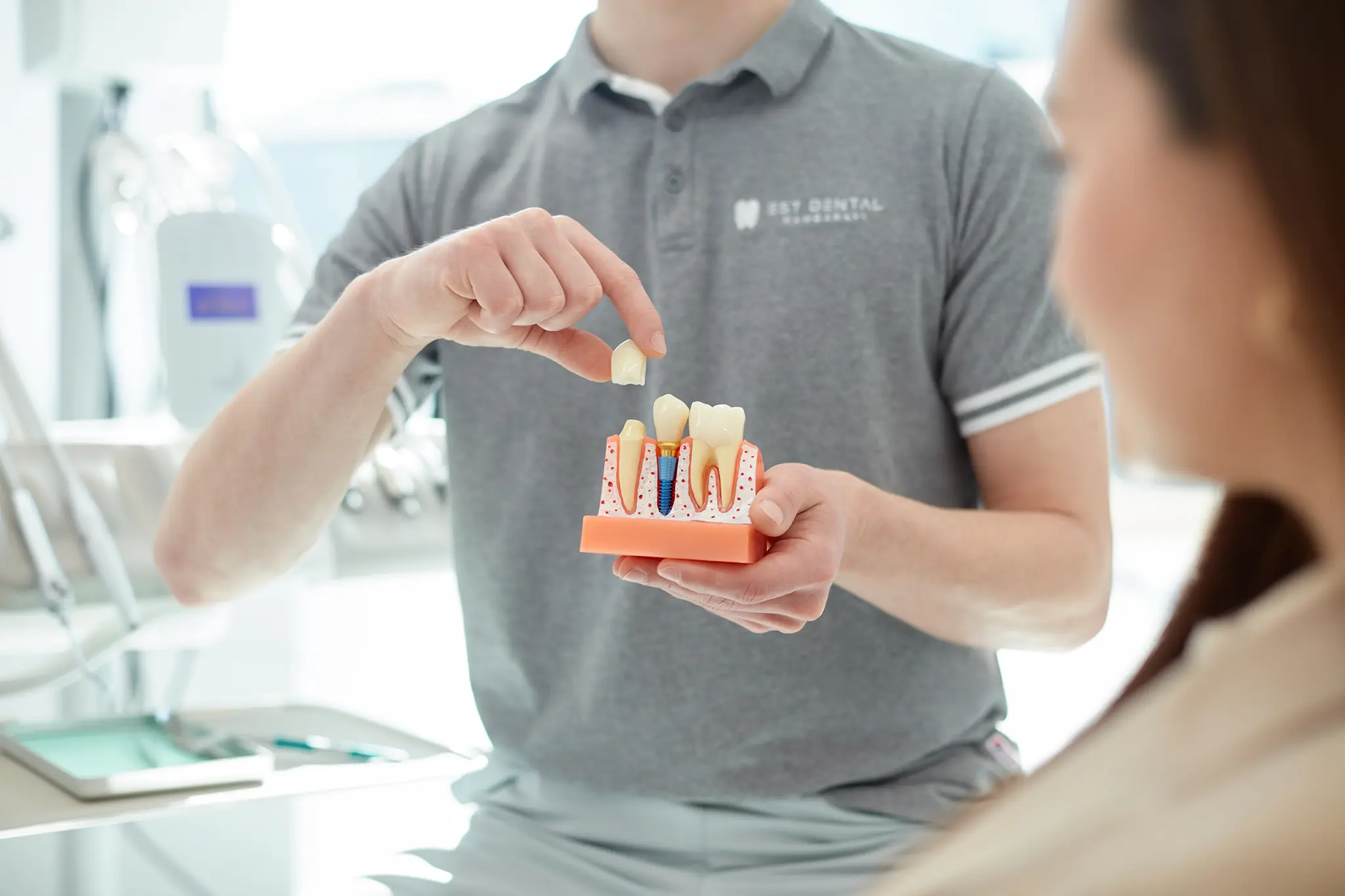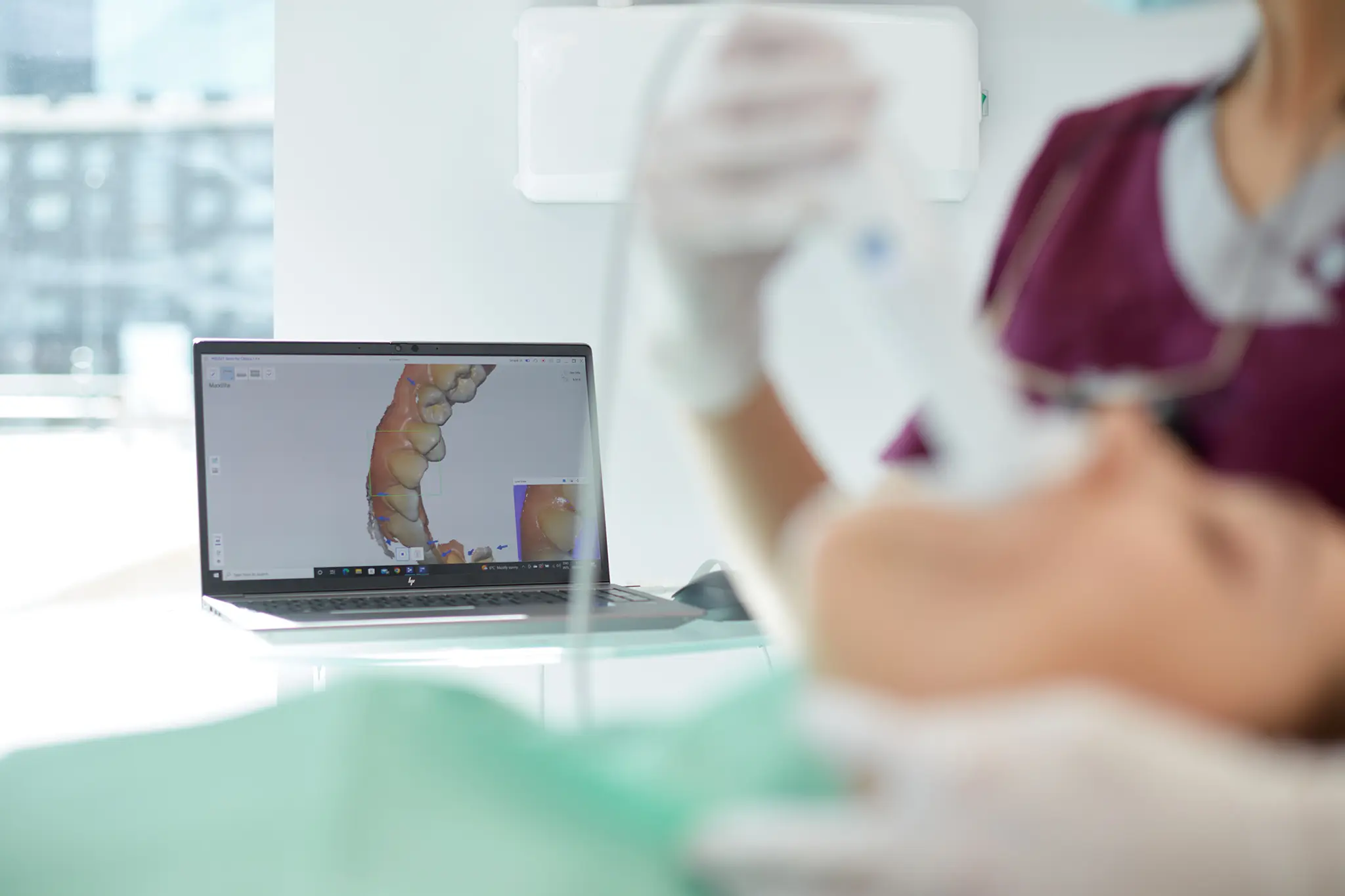 Stages of dental prosthetics
The process of manufacturing dentures consists of several stages. Of course, the treatment plan and the manufacturing process itself are patient-based, as it depends on many factors. But still, we can distinguish the key stages of dental prosthetics, which are similar throughout all cases:
Initial consultation. At the first visit, the dentist will evaluate the status of the patient's oral cavity, discuss his/her preferences and availability, and perform the following manipulations required to start treatment: photo documentation, impressions, dental history, and X-ray evaluation.
Treatment planning. Based on the information received, the doctor will draw up one or more treatment plans, which will then be discussed with the patient. The patient will choose the most suitable treatment option (prosthetics type, materials, color, and other important parameters). To finalize it, the time frame of work and the cost of prosthetics will be determined.
Pre-treatment of teeth. The teeth to attach to the prosthesis will be pre-treated depending on the chosen type of work.
Data transfer to the laboratory. To manufacture dental prosthetics in the laboratory, all information about the patient's teeth and soft tissues is transferred using impressions (casts) or digital scanning. Based on the data received, the dental technician will make an individual prosthesis for the patient.
Fitting and installation of dental prosthetics. Before the final installation, the prosthesis should be tried on. At this stage, a minor required correction of the color or shape of the teeth can be made. Once fitted, the dental prosthetics will be finally placed. The dentist will give advice on how to care for the new dentition, teach proper hygiene, and schedule a follow-up visit.
Monitoring after the dental prosthetic placement. After a while, the patient will revisit his/her doctor to make sure that the prosthesis is functioning correctly, check the quality of home hygiene, and get answers to questions that may arise. Getting used to a new prosthesis can take some time and cause some inconvenience at first.
Dental prosthetics are an important and integral part of dentistry. It brings people the smile of their dreams and self-confidence while improving the quality of their lives! Well-planned and well-executed dental prosthetics give a highly aesthetic and functional result. 
Book a consultation for dental prosthetics at the EstDental Hambaravi clinic now. Feel free to contact us.